Brave Halfling Publishing is proud to announce the release of our first CASTLES AND CRUSADES™
module:
THE SECRET OF RONAN SKERRY
by Michael Davis
An adventure for 4-6 players of levels 1-3
The town of Port Vogey is in distress. For several weeks, no ships have come into port, and no one knows why. Now the new moon has passed and the lighthouse keepers, the monks of the Sea Goddess, have missed their monthly trip into Vogey for supplies. The town council are not sure whether this is due to mishap or foul play, but you have heard they are looking for some eager adventurers to investigate.
This 32 page, digest module includes 4 new monsters, 4 maps (2 are 3-d and 1is a wilderness/area map), 3 original pieces of art and a monster reference sheet.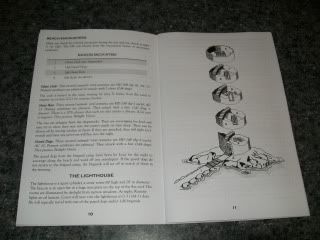 This module is available directly from BHP
This module is available in Print & Pdf for $6.99.
($1 shipping to the United States)
($2 shipping to Canada)
($3 shipping to World-Wide)
It will ship on Friday, June 26, but you will be able to download the pdf immediately.
The PDF (only) version of this module will be available for $5.00 on Thursday, July 23.